Deluxe Carrying Case with Moveable Dividers
5231: Deluxe Carrying Case with Moveable Dividers
View Larger Image
Close this window
Image is representative only
Learn more about Jameco ValuePro, ReliaPro
and BenchPro brands.
No datasheet available. Please review the tabs below for product specifications.
Deluxe Carrying Case with Moveable Dividers
When you have hundreds of resistors, capacitors and ICs, things can get a little messy. This convenient carrying case contains 34 separate storage compartments for you to stay organized. The clear, flip-top lid has 26 built-in compartments and provides easy viewing of components in-hand, as well as easy labeling of each compartment. The case features 8 interchangeable compartments so you can customize the way you store your parts. The snap-lock provides quick and secure closure for all your parts so you can get up and go in a hurry.
Features
34 total possible storage compartments
Clear, flip-top lid with built-in compartments
Interchangeable compartments within the case for versatility
Snap-lock for quick and easy closure
Carrying handle for easy travel
Total Size: 15.00"L x 11.25"W x 3.75"H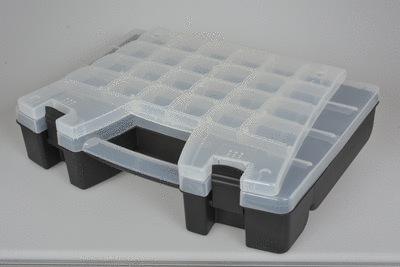 Related Products
To get this deluxe carrying case filled with components, check out:
Deluxe Electronics Kit 1
Deluxe Electronics Kit 2

Report a problem
Suggest a product