AVR Programmer USB TTL Level Serial SLO-Scope 12 Inch 6 Pin ISP
View Larger Image
Close this window
Image is representative only
This is a programmer for AVR-based controllers, such as the Orangutan robot controller and the
3pi robot
. The programmer emulates an AVRISP v2 on a virtual serial port, making it compatible with standard AVR programming software. Two additional features help with building and debugging projects: a TTL-level serial port for general-purpose communication and a SLO-scope for monitoring signals and voltage levels.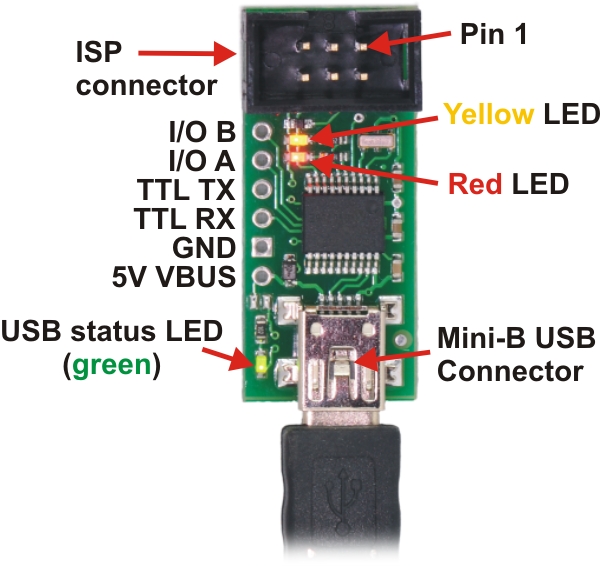 The Pololu USB AVR Programmer is an extremely compact, low-cost in-system programmer (ISP) for Atmel's AVR mirocontrollers, which makes this device an attractive programming solution for AVR-based controllers. The USB AVR programmer connects to your computer's USB port via an included USB A to mini-B cable and communicates with your programming software, such as AVR Studio or AVRDUDE, through a virtual COM port using the AVRISPV2/STK500 protocol.
Features:
Extremely compact
In-system programmer (ISP)
Compatible with Windows XP, Windows Vista, Windows 7, and Linux
Includes: 6-pin ISP programming cable, USB-A to mini-B cable
Drivers and other software can be found here

Report a problem
Suggest a product
Discount Center
Deals on electronic parts for all your projects.
Start Saving Now»