Deluxe Electronics Kit 1 with 219 Pieces - Resistors Transistors Switches Wire Potentiometers
View Larger Image
Close this window
Image is representative only
Learn more about Jameco ValuePro, ReliaPro
and BenchPro brands.
Deluxe Electronics Kit 1
Tired of digging through all your parts just to find a 1kΩ resistor? Well, here is the answer to all your components problems. This kit contains over 200 pieces of passive components and more including everything from resistors and capacitors to hookup wires and a breadboard. Everything is neatly packaged in a deluxe carrying case with separate compartments so you can stay organized and take them anywhere!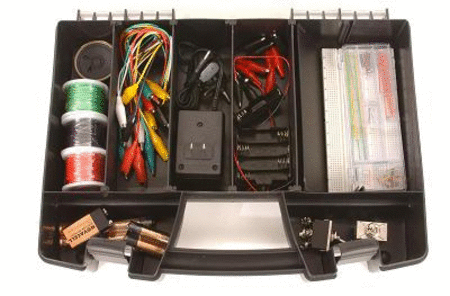 Includes
(2) Photoresistors

(3) 3A Miniblade Automotive Fuse
(1) 1/4" momentary SPST red pushbutton
(2) DPDT non-latching 12V relay
(2) 5mm RGB LED
(5) 5mm Green LED
(5) 3mm Green LED
(5) 5mm Red LED
(5) 3mm Red LED
(4) Transistor, Programmable Unijunction 2N6027 DIP TO-92
(4) Transistor, Bipolar NPN 2N2222 DIP TO-92
(4) Ceramic capacitor 0.047µF
(2) Electrolytic capacitor 2.2µF/50V
(1) Electrolytic capacitor 22µF/50V
(2) Electrolytic capacitor 1000µF/25V
(10) Carbon Resistor 1/4W 5% 100Ω
(10) Carbon Resistor 1/4W 5% 180Ω
(10) Carbon Resistor 1/4W 5% 220Ω
(10) Carbon Resistor 1/4W 5% 470Ω
(10) Carbon Resistor 1/4W 5% 680Ω
(10) Carbon Resistor 1/4W 5% 1kΩ
(10) Carbon Resistor 1/4W 5% 2kΩ
(10) Carbon Resistor 1/4W 5% 10kΩ
(10) Carbon Resistor 1/4W 5% 15kΩ
(10) Carbon Resistor 1/4W 5% 27kΩ

(10) Carbon Resistor 1/4W 5% 33kΩ
(10) Carbon Resistor 1/4W 5% 51kΩ
(10) Carbon Resistor 1/4W 5% 100kΩ
(10) Carbon Resistor 1/4W 5% 470kΩ
(1) Stranded Hookup wire 22AWG, 25 ft, Red

(1) Stranded Hookup wire 22AWG, 25 ft, Black
(1) Stranded Hookup wire 22AWG, 25 ft, Green
(2) DPDT toggle switches
(1) Loudspeaker 2", 0.5W, 8Ω
(1) Solderless screw terminal breadboard with 70 piece solid jumper wire kit
(1) Multi-output 9W AC/DC adapter 1.5V-12V @ 500mA
(1) Potentiometer 1MΩ linear
(2) Potentiometer 2kΩ linear
(10) Jumper wires with alligator clips attached
(10) Red and Black alligator clips
(1) 9V battery snap case
(1) Single AA battery holder
(1) Four AA battery holder
(6) AA 1.5V alkaline battery
(1) 9V battery alkaline battery
Report a problem
Suggest a product