Intelligent 3G SMS Alarm Controller
SMS-530 is an intelligent 3G SMS controller for industry applications with the simple commands and SMS tunnel function, and power can be input with external power or a Lithium battery. It supports UNICODE or 7 bit format for users to implement sending SMS messages with various languages. Applying SMS-530, the SMS report can be sent by defined time or DI/counter event trigger. This can be a remote control and alarm system allowing you to use your mobile phone to monitor and control your business from any location. Its alarm facilities provide a flexible way to distribute critical alarm information to any number of mobile phone users.
SMS-530 can monitor total 10 digital inputs (6 counters). The user can also interrogate the status of I/O through SMS messages. The SMS-530 also has 2 Digital output which can be activated via DI trigger or SMS to control the lamps, pumps, heaters etc.
Features
Support GSM 850/900/1800/1900 MHz Quad-band frequency
Support WCDMA 850/900/1900/2100 MHz Quad-band frequency
Identify ASCII or Unicode SMS Automatically
Support max. 140 ASCII Characters
Support max. 70 Unicode Characters
Built-in ASCII Commands and SMS tunnel Communication Modes
Max. 10 Default Phone Numbers
Built-in Watch-dog Function
Industrial Design with Surge Protection
Support SMS setting and control
10 DI (6 Counter), 2 DO, 2 RS-232 port
Digital input support NC(normal close)/NO(normal open)/Counter modes
Send alarm SMS by DI trigger or exceed Counter preset limits
Support simple command to send SMS via RS-232
Support DC +10 VDC to +30 VDC Power Input
Supports 3.7 V Li-ion Battery Backup
DIN Rail design
Specifications
System
CPU: 32 bit CPU
SRAM: 32 Kbytes
Flash Memory: 512 Kbytes
RTC: Gives time(sec, min, hour) & date, leap year compensation from 1980 to 2079
WDT (watchdog): Yes
Serial Ports
COM2: RS-232 : TxD, RxD, GND for configuration
COM3: RS-232 : TxD, RxD, GND for communication with other devices
DIO
Input:

10 Channel (6 Counter 5 to 40Hz + 4 Channel Digital input powered by external power or Li-battery)
On Voltage : +3.5 to 24VDC
Off Voltage : +1V Max.

Output:

D/O : 2 Channel Open collector output (100mA @ 24VDC)
Output type : Open-Collector (NPN)
Load Voltage : +24V Max.
Load Current : 100mA Max.
3G System
Frequency Band: WCDMA Quad-Band 850/900/1900/2100 MHz
Power Class: Class 3 (250mW @ WCDMA/HSPA)
2G System
Frequency Band: GSM Quad-Band 850/900/1800/1900 MHz
Coding Schemes: CS 1, CS2, CS3, CS4
SMS Format: sending: UCS2 receiving: UCS2/7bits
Power
Protection: Power reverse polarity protection
Frame Ground Protection: ESD, Surge, EFT, Hi-Pot
Required Supply Voltage: +10 VDC to +30 VDC with 600 mAh Li-ion battery backup (Option :1200 mAh)
Power Consumption: Idle: 25 mA @ 24 VDC; Data Link: 44 mA @ 24 VDC; Peak: 45 mA @ 24 VDC; Sleep: 15mA @ 3.7VDC
Mechanical
Casing: Plastic
Dimensions (W x L x H): 91 mm x 132 mm x 52 mm
Installation: DIN-Rail
Environmental
Operating Temperature: -25 °C to +55 °C
Storage Temperature: -40 °C to +80 °C
Ambient Relative Humidity: 5 to 95% RH, non-condensing
Applications
Application 1: Signal Alarm and SMS Communication

Application 2: Home Security

Application 3: Remote Maintenance

Application 4: SMS Tunnel Communication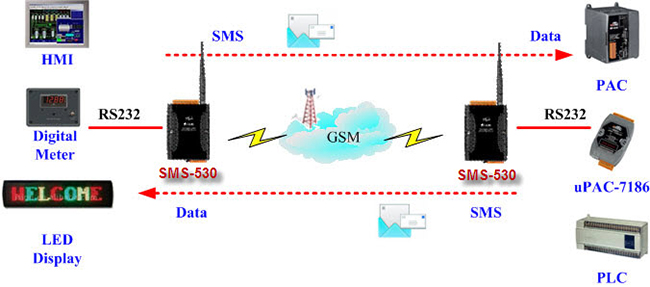 Application 5: DI Alarm and SMS Communication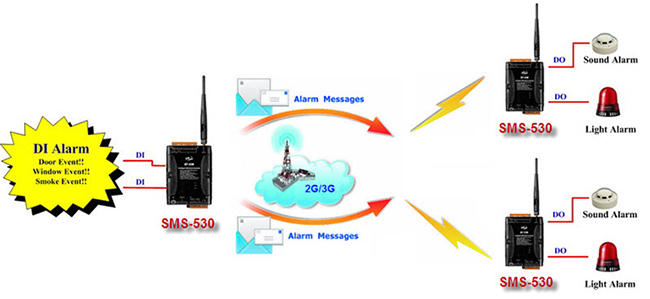 Resources & Downloads
Report a problem
Suggest a product