Pololu 3pi Robot
The
Pololu
3pi robot is a complete, high-performance mobile platform. It includes two micro metal gearmotors, five reflectance sensors, an 8x2 character LCD, a buzzer, and three user pushbuttons all connected to a C-programmable ATmega328 microcontroller. It is even capable of speeds greater than three feet per second. 3pi is a great first robot for determined beginners and a perfect second robot for those looking to move up from non-programmable or slower beginner robots.
The 3pi robot is designed to shine in line-following and maze-solving competitions. It has a small size (9.5 cm/3.7" diameter, 83 g/2.9 oz without batteries) and takes just 4
AAA batteries
(not included), while a unique power system runs the motors at a constant 9.25V independent of the battery charge level. The regulated voltage allows the 3pi to hit speeds up to 100 cm/second (3 feet/sec) while making precise turns and spins that don't fluctuate with the battery voltage.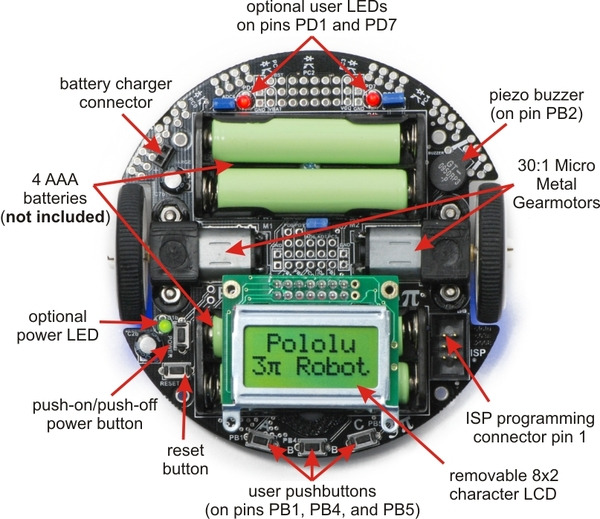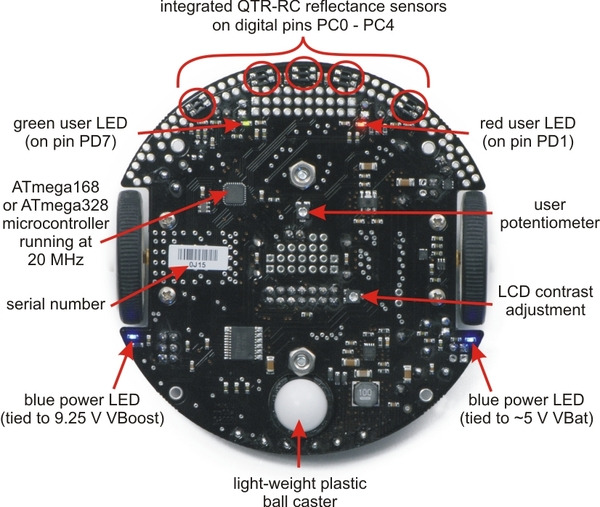 There is also some prototyping space for additional sensors and electronics. An external
AVR ISP programmer
is required to program the 3pi. Also be sure to check out the step-by-step on the
Jameco Workshop page
.
Features
ATmega328P microcontroller
32kB flash program memory
2kB RAM
1kB EEPROM
2 micro metal gearmotors
5 reflectance sensors
8 x 2 character LCD screen
Buzzer
3 pushbuttons
Speed: 100 cm/second (3 feet/second)
Small size: 3.7" diameter
Weight: 2.9 oz. (83 grams) without batteries
Uses 4 AAA batteries (not included)
Report a problem
Suggest a product