Gravity Digital Tilt Sensor for Arduino & Raspberry Pi
This is a digital tilt sensor switch that can be used as a simple tilt sensor. Inside the sensor, there is a ball that makes contact with the pins when the case is upright. Tilt the sensor over and the ball won't touch, thus keeping the circuit open.
Simply plug to our IO/Sensor Expansion board or your Arduino, Raspberry Pi or project using the 3-pin cable (0.1" spacing), and you can make some amazing interactive projects. As this sensor is now woking under 3.3V, it is now able to be compatible with Raspberry Pi. An Arduino Shield for Raspberry Pi B+/2B/3B will make it easy to use.
Here's how it works: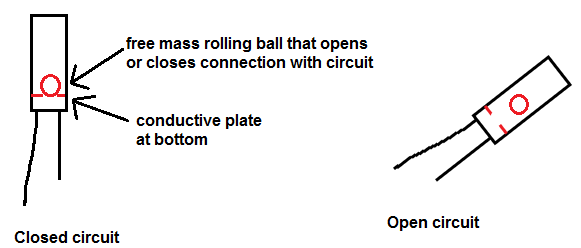 Features
Wide voltage range from 3.3V to 5V
Standard assembling struct (two 3mm holes with multiple of 5cm as interval)
Easily recognitive interfaces of sensors ("A" for analog and "D" for digital)
High quality connector
Immersion gold surface
Specification
Supply voltage: 3.3V to 5V
Interface Type: Digital
Pin definitions: (1) output (2) power supply (3) ground
Size: 0.87" x 1.18"
Documents
Report a problem
Suggest a product